The Dale Bendable Armboard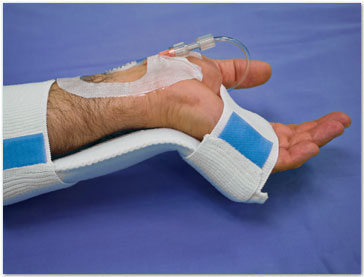 The Dale® Bendable ArmBoard stabilizes and secures lines and IV Catheters. The ArmBoard is covered in a soft comfortable material and is fastened to the arm with adjustable hook and loop straps. The ArmBoard can be custom shaped to any position. It allows the clinician to hyperextend the patient's wrist in a fixed position for more pronounced radial artery exposure. This leads to more trouble-free line insertions, assures the integrity of the line, and facilitates invasive monitoring of blood gases for extended periods. In a more flat position, the ArmBoard can be used as a traditional armboard for peripheral IV lines. The small size ArmBoard can be shaped to accommodate an infant's wrist or heel.
The Dale® Bendable ArmBoard is safe to use on patients undergoing MRI under specified conditions.
Document Download